We are pleased to inform you that we have recently upgraded our email system. With effect from 7:00am 22 October 2007, a new interface for "WebMail" will be implemented. We would appreciate if you could log on the new interface using your existing username and password from the time stated.

Our webmail service will be temporarily suspended from 7:00pm 21 October 2007 to 7:00am 22 October 2007.




Webmail: http://mail.cih.org.hk




Mail Administration: (e.g. Mail Forwarding, Change Password, etc...):




1. Click http://mailadmin.cih.org.hk for Mail Forwarding or Mail Administration.




2. Please logon using your existing User Name (User Account), Domain name (cih.org.hk) and Password. You may refer to the adjacent page for example.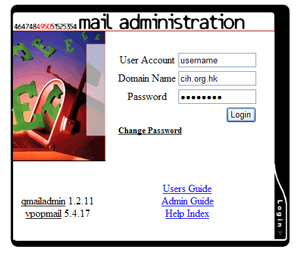 3. For "Mail Forwarding", please select the "Forward To" option and type in the address you wish to receive the emails. If you have more than one email address, you may separate them by using a comma, e.g., forward1@abc.com, forward2@cde.com.
4. For "Changing Password", please type the "New Password" and "Password (again)".
5. After finished changes, you can click "Modify User" to confirm and complete the modification(s).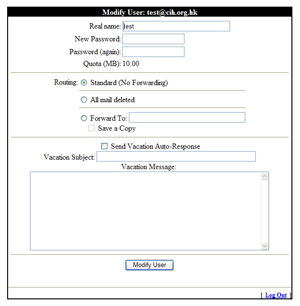 Should you have any technical problems, please send an email to itservice@cih.org.hk for assistance.




POP Setting:




Members using POP to access to their emails are NOT REQUIRED to make any changes on the current setting.




Current POP setting for your reference:
POP: mail.cih.org.hk
SMTP: (smtp given by your ISP)
username: username@cih.org.hk (full email address, e.g. chantaiman@cih.org.hk)
passward: (given password)


ALERT
During the relocation of our server, some of your emails may still be contained in the old system. We recommend you retrieving these emails, if any, by clicking on the following link http://83.211.240.129 and logon using your Username and Password.